Bookings and Reservations
Select your rental time below, select your date, and fill out the the form to reserve your rental online.
* No Experience Necessary     * Best Value Kayak Rentals!
All Rentals Are Weather Permitting
Kayak Rental: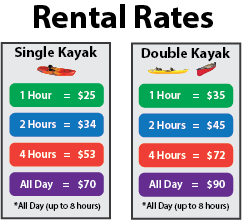 Complete our eSign Waiver
Complete the waiver now to save time on the water later!
  We

include

the following amenities with our Kayak Rentals: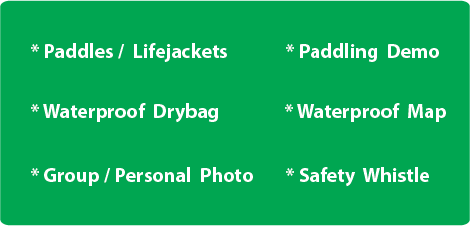 **Ask us about Daily Specials that we have!**
Season: June – November
Open Days and Times:
Saturday: 9:00am – 8:00pm (Book Online)
Sunday:   9:00am – 8:00pm (Book Online)
Monday: Call for Availability (Book Online)
Tuesday: Call for Availability (Book Online)
Wednesday: Call for Availability (Book Online)
Thursday:  Call for Availability (Book Online)
Friday:  6:00pm – 7:00pm (Sunset Paddle)
*Hours Will Vary Depending on Available Daylight*
Additional Activities
Gift Certificate
Buy Gift Certificates
Private Party / Event Reservation Rentals

Rates May Vary Based on Time, Distance and Location
Kayaks may be reserved for increments of: 3 Hours | 5 Hours | 8 Hours | Overnight
Download Our Rate Sheet or
Give us a Call for Pricing 214-724-8311
We Accept: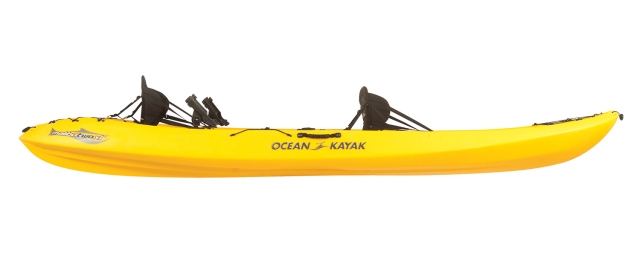 What is a Sit-on-Top Style Kayak?
Sit-on-Top Kayaks are fun! They are easier to get on and off, even in deep water. The kayak can self-bail itself to prevent swamping, but can be a wet ride due to scupper holes, paddle drip and over-spray. Consider a Sit-on-Top Kayak like a Stand Up Paddleboard (SUP) but you get to it down while paddling. You are not inside of a cockpit.
---
Complete your eSign Waiver Online to Save Time!
Completing the eWaiver now will save you and your group time on the water!
---
 ***We ONLY offer Sit-on-Top Kayaks. This type of Kayak is easier to paddle and also will not tip over as easily as a Sit-Inside. Sit-on-Tops are much safer.***
*Rules & Requirements: Valid Driver's License – One Person 18 Or Older – No Drugs or Alcohol – No Harassing Wildlife. The kayak rentals are self-guided.